A wedding is on those occasions when one can enjoy in all ways including dressed up even. If it is for the bride then it becomes more special to get ready for the wedding. Everyone who attends the couple wedding looks at bridal attires and most importantly wedding lehenga all the time. When you hire a wedding planner for the wedding arrangements, you especially mention a separate note for bridal wear, makeup and hair then jewellery.
Bridal look
beautifies and glorifies the wedding in all ways. Getting married is not just an event; it is a huge task for an individual as well as the family also. An
event management company
does their work in the best way but to make the best wedding lehenga this all depends on to hire the best designer.
Bollywood
is having back to back
destination weddings
in this season as the
DeepVeer wedding
in Italy,
Diipa Khosla's destination wedding in Udaipur
and recent
NickYanka's royal wedding in Jodhpur.
In these, all celebrities wedding the bride and groom wore the famous designer Sabyasachi's designer lehenga and sherwani. Sabyasachi is best at the traditional designing and it's more special when it is about bride styling. You can check it out Deepika and Diipa's lehenga pics on their official Insta handles and you will definitely love them. A bridal lehenga looks more beautiful when this will fit with the bridal makeup and hair. When a designer designs the lehenga the makeup person should be with them to give the bridal perfect look. The famous Instagram influencer Diipa Khosla hired a
Wedding planner in Udaipur
for her wedding in October. The wedding pics are saying that how perfect they planned everything according to the
wedding theme
and Diipa were looking stunning in her wedding lehenga. When we look at the latest Bridal Lehenga Trends the splendor of Red never becomes low. Bridal lehenga in Red color always beat the other colors and most of the royal and destination wedding couples choose this color only. If you are going to plan your wedding soon and confused about to choose the perfect lehenga for you then Here we will go with some quick tips for bridal lehenga trends that will help you to choose the best lehenga for your wedding:
1. Which will be your lehenga style?
Red is always for romance and Love as a Red rule the bridal wear segment. But in the modern romance vibes comes with the English garden pastels in bridal wear. The pink and Yellow combination is quite in vogue these days to give a different traditional look. If you want to go with light colors, you may choose pitch color.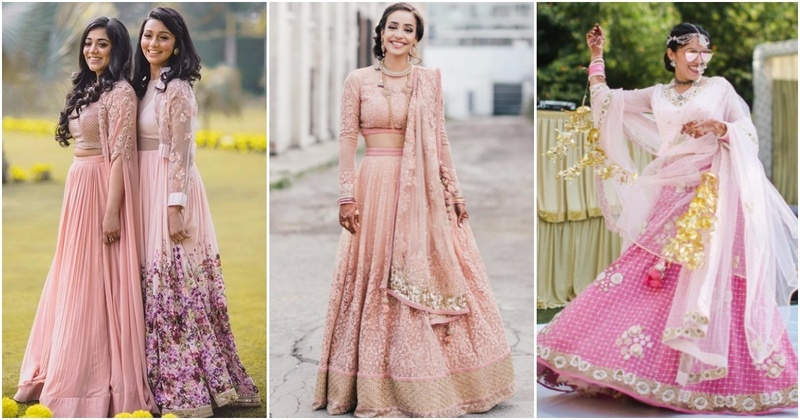 2. Which design do you choose for your blouse?
When you are more focused on lehenga, you may ignore the blouse designs. A perfect lehenga needs the perfect design of blouse also. Blouse must match with the styling of lehengas like if you like the skirt then blouse just follows that with the design.
3.The inner lining of Bridal Dupatta
Dupatta beautify your look and its most gorgeous border keeps you shining all the time. If it is in contrast with your lehenga, this will be vibrant. When you will have dupatta on your head, the inner lining becomes visible from the sides of your face and in every pic of your wedding, this will be the highlight. So wear a dupatta in the way which makes your lehenga perfect.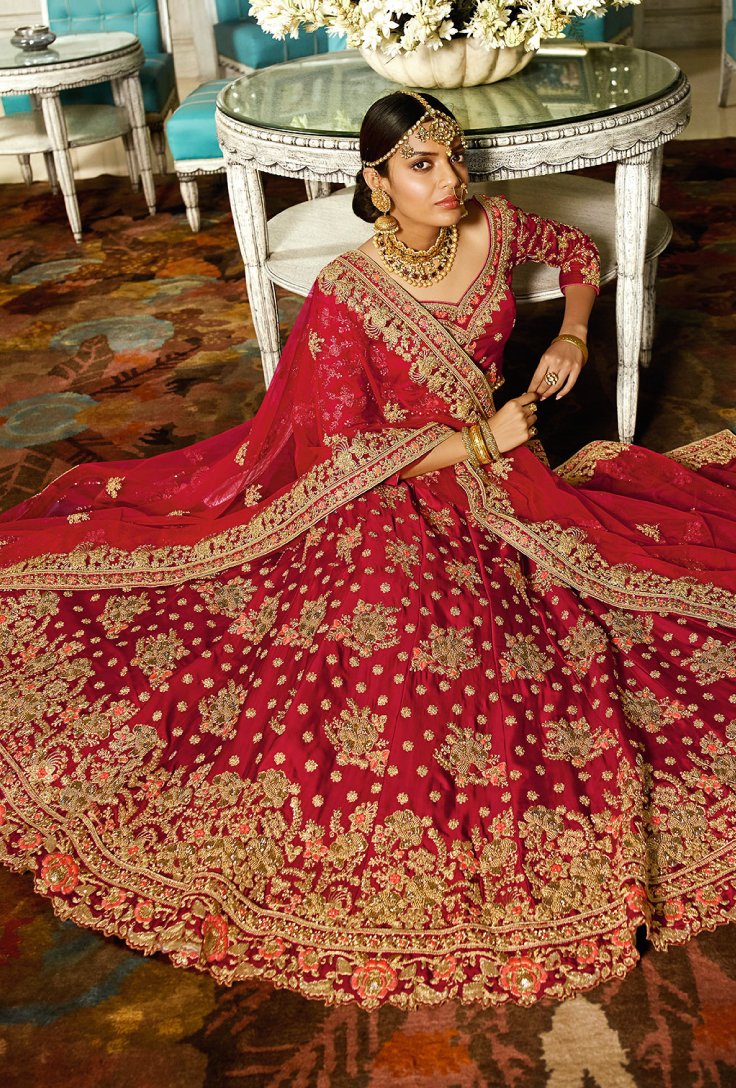 4. Don't forget to ask for your lehenga swatch
Always try the swatch of your lehenga in different shades. You will also need the swatch to match the jewellery and footwear and you and your groom can coordinate perfectly if you have a swatch.
 5. Don't try out of the budget
Only go to those stores or designers which are fit to your budget. This will save your time and you won't be confused to take the final decision with your lehenga. There are lots of better choices available in every budget options.
 6. Follow what suits you best
Only wear what looks best on you. Don't follow the trends blindly if it doesn't suit you. After all, it is your wedding so make it best in your own way.